Update regarding accessible toilets
Our Accessible Calderdale project and the Accessible Calderdale Disability Access Forum are at the heart of many of the new designs and developments across Calderdale.
We thought it would be helpful to give people some up-to-date information about accessible toilets as we know this is something very important. Difficulty in finding a loo is often a reason disabled people find it hard to plan a day out.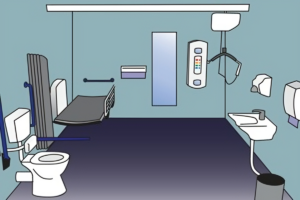 The Changing Places campaign
For many years we have supported the Changing Places campaign.
Changing Places are a specific type of accessible toilet. They are different from a standard accessible toilet in that they have lots of space, an adjustable bed, and a hoist. These features are necessary for people who need a lot of help and who cannot go out and about unless these types of facilities are available.
Changing Places is also the name of the national consortium of organisations which campaigns for and registers Changing Places toilets. These organisations work to ensure that people with disabilities have access to the Changing Places toilets they need to live full and independent lives.
Changing Places accessible toilets give more disabled people with a wide range of impairments the opportunity to get out and about with the knowledge that they can either go to the toilet or have space to be changed. This can have a positive impact on their physical and mental health, as well as their social and economic participation.
They can be opened with a Radar Key.  Or a key is often available at the venue.
https://news.motability.co.uk/everyday-tips/radar-keys-explained-what-are-they-where-can-i-use-them-and-how-do-i-get-one/
There has been a campaign for many years to improve toilets for disabled people and children.  
Due to the success of the campaign there has been a lot of funding available for local authorities to apply to have Changing Places toilet facilities in local venues.
Some of these venues could be:
A shopping centre or

Theatre or

Museum or a

Park
In Calderdale we worked closely 18 months ago with the local council to receive funding for 3 new Changing Places accessible toilets.
Todmorden Community Hub – about to be opened with a launch
Fire and Water – in progress
Ogden Reservoir – in progress
Where are Changing Places accessible toilets?
There are already Changing Places accessible toilets in the following venues:
Eureka
https://play.eureka.org.uk/plan-your-visit/access-information/
Orange Box Youth Centre in the centre of Halifax
https://www.closomat.co.uk/changing-places-at-the-orangebox-to-optimise-youth-potential/
Square Chapel theatre in the centre of Halifax
https://squarechapel.co.uk/visit/
Brighouse Swimming Pool and Fitness Centre
https://www.calderdale.gov.uk/v2/sports-and-fitness/venues/brighouse-swimming-pool-and-fitness-centre
The new bus station in Halifax
https://www.yourvoice.westyorks-ca.gov.uk/hbs/widgets/10395/faqs
For more information on Changing Places see:
https://www.changing-places.org/