Delivering face to face and not on Zoom!
Our New Co-Designed Accessibility & Inclusion Training Course for Calderdale
July 2023
Well, after what seems like a very long absence, face to face accessibility & inclusion training is back!
Covid made us all relatively expert at Zoom, Teams, Skype and all the others, but I've got very limited interest in taking several hours to look at tiny images on a screen and trying to read the tiny script. It's just not the same as talking to a real live group of people!
So, here we are! Our all new, shiny interactive integrated team made its first appearances at the Artworks Gallery and the Orange Box.
It's amazing how quickly the old skills come back – timing, remembering the old stories, injection of humour, interaction with the delegates – love it!
But this time, something new, something I've not had to deal with before, I'm part of a super new Team! Four of us in the same room at the same time – the delegates didn't stand a chance!
It's strange at first – you don't need to fill the whole session, you can learn from others, you can ask questions – but I like this brave new world. Slightly easier on us because we're sharing, but tougher on the delegates because we're relentless, we don't get tired!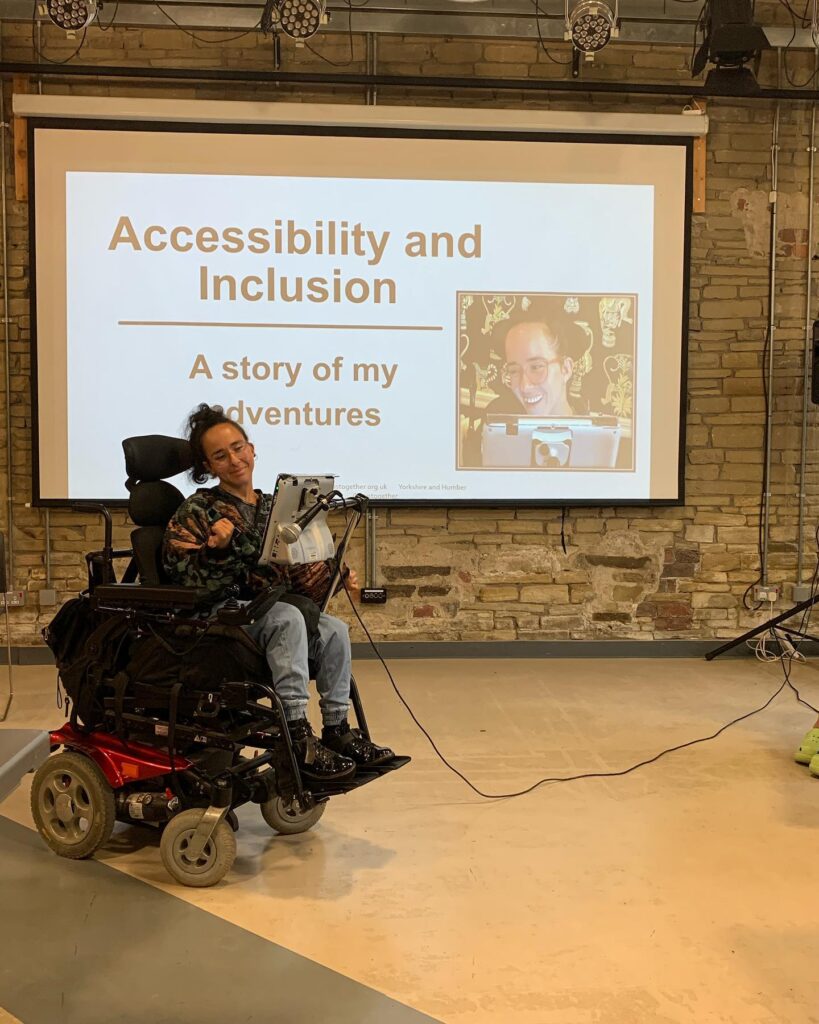 Our brand new three hour session, Accessibility & Inclusion Training
Our brand new three hour session covered all the bases and gave a strong introduction to access and inclusion. Delivered as part of the Calderdale/Culturedale project, with an eye on Calderdale year of Culture 2024, we were keen to roadtest our scheme, ready to roll it out in earnest.
We covered the lot in a very concentrated but lively session, including lots of lived experience.
I kicked things off with the basic structure of Social model, appropriate Language and appropriate Behaviour. Can be a bit worthy and politically correct, but that's not my nature and with a lifetime of lived experiences, mostly happening before legislation was enacted to protect people like me, I can usually hold an audience.
After I'd wound everyone up it was Katie's turn to express the voice of reason – some legal stuff, can you actually get away with that? Is that actually legal? Then some numbers – how many of us are there?
Nadia then gave us all an astonishing insight to her life from her electric wheelchair as she enjoyed a weekend at Glastonbury (Where? Really?), her experiences in dance workshops and so much more, holding goal attention until you could hear a pin drop as she programmed her voice apparatus.
Big thanks to the lovely Sam from Curious Motion who brought a new perspective to our training and highlighted the importance of soft skills and how a bit of compassion and values goes a long way.
And then, after an exhausting, mind-stretching few hours, we finished with some much appreciated mindfulness to relax the tension we'd created with our mix of knowledge, horror stories, humour and general bloody mindedness. Great way to bring the event to a close.
How was the session?
The sessions seemed to go well and were certainly appreciated. The delegates seemed to gain something, and we've also learnt a lot. Hopefully there'll be plenty more sessions including our accessibility & inclusion training for us to inflict our unique blend of knowledge and experience on you all, delivered in our own personal style.
We'll know what we're doing by the end of it all!
Anyway, feedback so far has been excellent which is always energising. I particularly liked one comment made to me over a cup of coffee at the end –
"Chris, I particularly liked your comedy moments, lifted the whole thing for me!"
"Comedy moments? Comedy moments?" I replied, "That's my life you're talking about!"
See you next time, Chris