Is there a disabled toilet please?
Disabled toilet? Is there one here please?
Inside you scream "…this is a modern building – it HAS to have a proper disabled changing toilet with hoist….surely?"
And we know what happens next…
Disabled toilet? Not always…
The "disabled" toilet is actually a baby changing cubicle that stinks of dirty nappies. You have a job getting son /daughter/ wheelchair/changing bag/feed/medical emergency stuff/clean clothes/snack etc through the chuffing door!
Now, I'm determined not to do a whiney whiney post – really I'm not – but REALLY? Its 2017! Disabled people aren't locked away anymore – they really do go out of the house now and guess what? They need a loo or somewhere to freshen up with space for a wheelchair and access.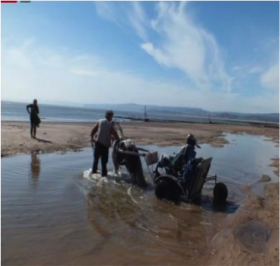 We have all supported the very excellent Changing Places campaign. The pride and joy (and a little bitterness – or is that just me?) we feel when the penny drops with another trader that they are really missing a trick by not being #Accessible.
Our family has discovered the MIGLOO recently and we thought we would share our joyous news with you. MiglooFreedom is a personal, pop up HOISTED changing suite and has been accredited with Changing Places status. www.migloo.co.uk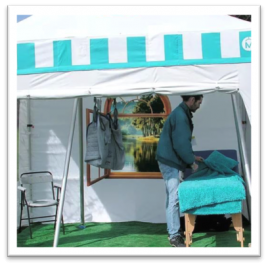 You can rent for an occasion or to take to an event or Festival or buy one for personal use out and about – there's no panic about finding a hoisting changing facility as it comes with you on a roof rack. It takes a couple of minutes to pop-up We have had a trip to the beach, sand through our daughters toes and sandcastle building – something she hasn't been able to do since she was a little and portable tot.
Whilst on the subject of beach adventures, we have also just discovered Simon Mulholland and his pony www.ponyaxes.com You may have seen them on BBC Countryfile TV Programme.
Pony Axes takes people who use wheelchairs to all the places where wheelchairs can't take them. No need to transfer to all terrain or beach wheelchairs, no need to leave your wheelchair behind. They take you, in your wheelchair, anywhere.
Simon will take you where you want to go for the day – so combined with the Migloo hoisted changing suite life becomes just a little bit sweeter!
Vicky, Mum to Clementine, Lucy and Pippi, Herefordshire