Harry Potter and the magical 4 hours.
Harry Potter is celebrating 17 years and the magic is still flowing. I remember picking up the first Harry Potter book, The Philosopher's stone and being unable to put it down. I'm not sure how that looked sitting in the nursing staff room we shared with the doctors as I sat and flipped through a book about a 12 year old boy in the wizarding world – 3 consultants borrowed my book after me and so the book swapping frantic behaviour began.
No matter how old I got or get I still enjoy a bit of Harry Potter, Hermione Granger and Ron Weasley's great adventures and so with great pride and shear joy, I was thrilled when (with a little persuasion) both my boys jumped on board.
Harry Potter and the Amazing Accessibility.
Okay so it was game on, my boys wanted to go and visit Harry Potter world (and of course I did) so it was planning time. My oldest has learning disabilities and over stimulation of his nervous system can actually cause him discomfort if he is touched,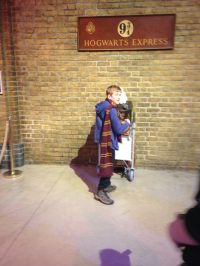 knocked or feels overwhelmed.  For me the planning has to start early so I called their helpline to see if the planning could be supported by the customer service team.
What a great experience I had. Warm and friendly, completely understanding and couldn't have offered me more support if I tried. We worked out what day of the week was the quietest, the best time within that day, the best place to have lunch which had the least crowd and where that was within the attraction so we knew the general time we'd get there.
All this information is the golden goose for James because if he has a time line he feels in control and that is a huge resource for him to enjoy his Harry Potter experience.
I got in for free as his parent which was a generous gift (or it is for us when the extras we need to book to support these experiences add up). I was offered disability parking bays even though I don't need one and had to keep refusing it (in a fully grateful way) and the welcome we got when we arrived was perfect, signs were easy to follow so there was no complex navigation to work out.
The Magic Continued.
The logic in our planning paid off and we had space and time to enjoy our movement around the place, the toilets accessible and clean and a set of them near the entrance, the ramps wide so when wheelchair users came passed there was comfortable and respectful room. What I mean by that it, it didn't feel like an after thought, wheelchair users could move around the massive Hogwarts structure without being rushed.  The tour was on one level, I can't personally remember any steps other than the ones near the Hogwarts castle structure, these were only a few (the large spacious gentle sloping ramp ran adjacent) and the steps illuminated for those with visual impairment.  The support around was subtle and easy to access and it made the day utterly enjoyable.
All these little things add up to big deals for parents and carers, we are no different in the fact that we know if our children are enjoying themselves then we get to relax a little and enjoy the day as well.  In this case it was pretty awesome for us all and bar a few little moments of overwhelm for James, who did very well to bring himself back from them I'll give it thumbs up.
Top bits to see…
Diagon Alley, Gringots bank, the special effects, the famous bridge, the chamber of Secrets snake door, the Basilisk's skeleton, riding on broom sticks over London, Professor Snape's potions room, Harry Potter's dorm, Hagrid's famous robotic head (that you really can't tell it isn't him). Oh the list is endless so go and see it all!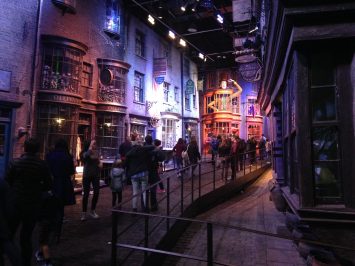 Just one bit of feedback that I think is important which is the close design of the shop. This isn't wheelchair friendly on a busy day with pop up stands in between the more fixed ones. The wands are all down by the from paying desks so as people are queuing to pay, you have people queuing to work our which wand they'd like to by. This wasn't something we could do with James as the space was too tight and doesn't advocate time taking and decision making. The shop (as it always is) is quite expensive but there's no need to prepare you for that as that's a given really. I tried the Butter bear but even with a sweet tooth that was way too sweet even for me but if you have one you can cross it off your bucket list so to speak.
I'm so glad I got to take the boys and that they saw the magic behind the magic because there's something about seeing how it's done that doesn't erase the magic of what you see on screen, it just seems to make it so much more amazing.
Harry Potter World a great website awaits you. It's all there but I also recommend speaking to the customer team.