Awesome Autumn Activities!
Well its official, it's COLD, not below freezing cold but it's pretty chilly!! Up here in the cold, wet and windy West Yorkshire it's not exactly dream weather and the idea of going out… well it's just not a good idea especially if you're at home wrapped up in numerous chunky jumpers with the fire on and a cuppa, why would you bother going out?
But after spending the summer months out and about enjoying the warm weather and sunshine you're unlikely to continue your adventures outside for a while, so what now? How can you get out of the house with the kids and still have a good time without freezing to death? Below is a list of indoor, and for the brave ones out there, outdoor activities for you and your family to enjoy in the months to come!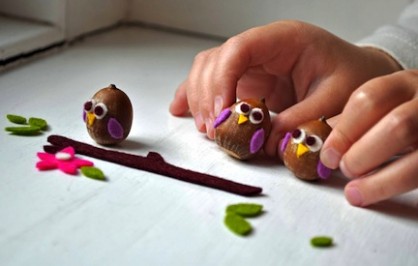 For the Artsy people out there here's a great list of craft things to do with the kids!
Acorn Owls – http://bkids.typepad.com/bookhoucraftprojects/2010/11/tetx.html
Leaf Rubbing – http://mumofthreemusketeers.com/
Leaf hedgehogs – http://www.tamingtwins.com/2014/11/12/3-autumn-leaf-crafts-for-toddlers/
Leaf crowns – http://www.tamingtwins.com/
Pine Cone Frames – http://mumofthreemusketeers.com/three-things-to-do-in-autumn/
For the rough and ready people out there who enjoy the crisp autumn air and the adventures in the outdoors here's a list of places to go!
Go on a treasure hunt – with a bit of preparation you can turn a normal walk through the wood into an exciting adventure for you and the kids!
Conkers – not only do they keep away spiders if you put them around your home but they're a great thing to start collecting! And of course, you can play a game of conkers!
Build a stick den – to find out how to make a stick den check out this link >> https://www.youtube.com/watch?v=yFUSomJ3Zzk
Go berry picking – at this time of year the autumn bushes are groaning to be picked, and maybe even put into a pie??
Bike ride – just because it's a bit chilly doesn't mean you have to abandon those bikes you've been riding around on all summer!
For the people out there who aren't so keen on the cold weather but still want to get out of the house here's a list of places to go that doesn't require you to freeze to have fun!
Central England – this link covers things to do in Leicestershire, Lincolnshire, Nottinghamshire, Shropshire, Derbyshire, Rutland, Warwickshire, Peak District and West Midlands >>> https://www.visitengland.com/things-to-do/family#centralengland&family&attractions
East of England – this link covers things to do in Norfolk and Cambridgeshire >>> https://www.visitengland.com/things-to-do/family#eastofengland&family&attractions
North East England – this link covers things to do in Yorkshire, North Yorkshire, East Riding of Yorkshire, West Yorkshire and Tyne and Wear >>> https://www.visitengland.com/things-to-do/family#northeastengland&family&attractions
North West England – this link covers things to do in Cheshire, Manchester, Merseyside, Lancashire and Cumbria >>> https://www.visitengland.com/things-to-do/family#northwestengland&family&attractions
Northern England – https://www.visitengland.com/things-to-do/family#northernengland&family&attractions
South East England – Hampshire, London, Bedfordshire, Berkshire, Surrey, Buckinghamshire, Kent, Oxfordshire, Hertfordshire, West Sussex, Isle of Wight, East Sussex and Brighton >>> https://www.visitengland.com/things-to-do/family#southeastengland&family&attractions
South East England – This link covers things to do in Devon, Dorset, Cornwall, Wiltshire, Somerset and Bristol >>> https://www.visitengland.com/things-to-do/family#southwestengland&family&attractions
Delicious Autumn Recipes
Prep: 40-50 minutes
Cook: 50 minutes
Ingredients:
1kg ripe tomatoes, peeled and chopped
750g cooking apples, peeled, cored and chopped
375g light muscovado sugar
1 green pepper, deseeded and chopped
2 tsp salt ½ tsp ground ginger
Method:
Put all the ingredients into a large pan and bring to the boil over a medium heat. Stir occasionally until the sugar has dissolved. Boil the mixture, uncovered, for about 45-50 mins until the fruit is tender and thickened. Cool, then transfer the mixture to a sterilised jar and seal.
Autumn vegetable soup with cheesy toast:
Prep: 10-15 minutes
Cook: 15-20 minutes
Ingredients:
1 leek, chopped quite small
2 carrots, chopped quite small
1 garlic clove, finely chopped
1 potato, chopped quite small
1 tbsp finely chopped fresh rosemary
½ tsp sugar
410g can chickpeas, drained and rinsed
3 tbsp chopped fresh parsley
2 x 400g cans chopped Italian tomatoes
425ml/¾ pint vegetable stock
8 slices of baguette, cut on the diagonal
1 garlic clove, cut in half
50g edam, finely grate
Method:
Put the vegetables into a large saucepan with the garlic, rosemary, stock and sugar. Season well, stir, bring to a simmer and cover. Cook gently for 15 minutes or until the vegetables are just tender.
Preheat the grill to high. Whizz the tomatoes in a food processor or blender until smooth, then tip into the vegetables with the chickpeas and parsley. Gently heat through, stirring now and then.
For the toasts: rub both sides of the bread with the garlic. Grill on one side until golden, turn the bread over, cover with edam and grill until it's bubbling. Serve at once with the piping hot soup.
Prep: 20-25 minutes
Cook: 2 hours
Ingredients:
450g mixed autumn fruit – we used ripe plums, peeled apples, pears and blackberries
2 tbsp butter, plus extra for greasing
Method:
Heat oven to 180C/160C fan/gas 4. Cut 2 x 5cm-wide strips of parchment and lay them up the sides of a 1.2-litre pudding basin, making a cross on the bottom of the dish. Make sure there is some overhang to help you release the pudding when cooked. Grease again. Lay a square of foil and equal-size square of greased parchment on top of each other, folding a pleat down the middle.
To make the filling, chop plums, apples and pears into 1cm cubes and place in a bowl with the blackberries. Add butter, broken into bits, 125g of sugar and cinnamon. Stir and put to the side.
Sift flour into mixing bowl. Mix in suet, remaining sugar and zest. Add a few drops of water, working it through with a cutlery knife, then keep adding water until you have soft dough. Using your hand, bring the dough together into a smooth ball. Tip out onto a lightly floured surface. Tear the dough into ¾ and ¼ parts. Roll the larger portion into a rough circle, approx 20cm. Drop into the basin and press up the sides until you have a slight overhang. Tip the filling into the pastry case. Roll out the remaining ¼ to make a lid, then press the pastry edges together to firmly seal. Tuck the protruding flaps of parchment down onto pastry.
Put foil/parchment on top (foil side up), pressing and squeezing the foil round the edges to make a fitted lid. Tie string securely around the lid, making a handle with extra doubled-up string. Put in a deep roasting tin, then pour boiling water to 1-2cm below foil line. Cook for 2 hrs, topping up water level if it gets too low. Unwrap, release edges using parchment tabs and invert onto a plate.
All these recipes were taken from the bbc, to see more great recipes follow this link >> http://www.bbcgoodfood.com/recipes/12844/baked-fruity-autumn-pudding
I hope you enjoy these Autumn activities and escape the world of cold and boredom this year! Can't wait to hear what you think!! Next up.. CHRISTMAS!!!