Strangers in the night………
What do you do when you arrive on the platform at Halifax Station from a meal in Manchester at 10.30pm and the lift is broken to get up to the exit to get in your car to go home? There are about 30 steps up to the main hallway. Halifax Station is relatively quiet at that time of night and is definitely not the sort of place you would like to hang around at for long.
You are with your Personal Assistant (or worse on your own) and you can't be left on your own. There is no attendant around.
Other than panic (which the PA did slightly – God love her!) what was the option?
Ring someone for help? – no number available that was emergency out of hours
Get back on another train and get off at another stop and get a taxi back to Halifax station to pick up the car? – worry that another station would not have disabled access. Worry that another station would have no accessible taxi rank (highly unlikely)and you would be left stranded
Sleep the night on the platform? Undesirable place, cold and damp and therefore not an option
Scream for help?
Luckily my daughter Nadia did not actually have to scream for too long. A tough and rough looking stranger arrived to catch his late night train after his shift at the scrap metal merchants.   Never judge or make assumptions. His heart was as big as his physical appearance.   He oozed with the smell of booze intermingled with kindness and compassion.
His communication with Nadia was great. He asked her if it would be ok to lift her and carry her to the seats at the waiting area.   When she agreed he bent down and scooped her up in his large but gentle arms telling her to hook her arm around his neck.
He safely delivered her to the seating area and then returned down the steps to get his equally strong mate to help him lift the wheelchair. He was told by the PA that it usually takes 4 men to lift it at which point some rather puny, younger blokes on a night out eagerly sprinted in the opposite direction – determined to get the next train rather than volunteer their services.
He and his mate then carried the electric chair up the steps and right up to where Nadia was waiting. Both were sweating profusely but still managed to smile between gritted teeth and pained expressions.   Once Nadia was happily back in the wheelchair he continued chatting away to Nadia explaining he was pretty tired due to having taken four cars apart that very day.
He waved goodbye to run for his train – he had no mobile phone and was not on facebook so we have to thank him via this blog and hope that someone somewhere will know him and thank him on our behalf. We owe him a beer.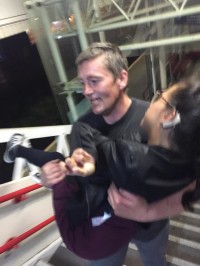 As he left another stranger approached Nadia and PA who was extremely friendly and confident with her communication. She had been watching what had happened and was checking that everything was ok and if Nadia was alright.   Like a long lost friend she spent a couple of minutes talking to Nadia and then left.   We would like also to thank Julie Hesmondhalgh (ex Coronation Street Hayley Cooper) for her consideration and acknowledgement of the situation).
In the meantime, we are in touch with Northern Rail to find out what their emergency policy is on broken lifts.  We'll let you know how we get on.